Are you looking to implement an eDMS at your organization?
Our eDMS Starter pack contains Guides, Templates, Workbooks and Resources to help you get started...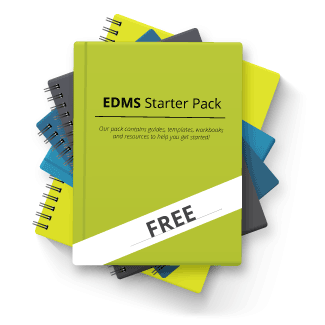 Many companies today are still stuck in the paper world when it comes to regulated documents. There are often significant technical, financial and operational barriers to overcome when implementing electronic document management systems, but there are also significant benefits to be had once these systems are in place.
In this starter kit, we have included four resources that will help you get started with your quest for electronic document management.
Our FREE Starter Kit includes:
STEP 1: Building a Business Case
- Free 'EDMS Business Case Template' [template]
STEP 2: Building Requirements and Requesting Information
- Free 'Request-for-Information (RFI)' [template]
STEP 3: Scheduling and Attending Software Demonstrations
- Free 'Best Practices for Attending Software Demos' [e-book]
- Free 'Essential Questions to ask in a Software Demonstration' [workbook]